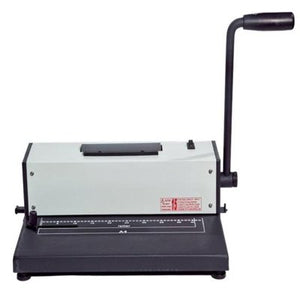 Tamerica TPC 4600 4:1 Coil Punch and Bind Machine
The TPC 4600 is an All New 4:1 Coil Punch & Binding Machine from Tamerica!
The Tamerica TPC 4600 is a Coil Binding Machine that is built using heavy duty, all-metal construction. Equipped with an electric coil inserter on top of the machine, you can punch and bind your documents quickly and easily. The TPC 4600 punches 15 sheets of 20# paper per punch using precise, hollow ground dies, and has a continuous punch guide pin that allows for punching documents up to 22". The baseplate is marked for Letter, A4, and Legal sizes for quick and easy punching. With a four position punch depth adjustment, you can adjust the depth for any size book you are working with. Get your TPC 4600 and see just how easy coil binding is!
Key Features:
Max. Punching Capacity: 15 sheets of 20lb paper up to A4 size (in one punch. 22" max)
Max. Binding Capacity: 45 mm
46 Hole Punch w/Extension Pin (Continuous Punch Guide) for longer sheets
Open-Ended punch throat
4-Position Punching Depth Adjustment
Heavy-Duty, All-Metal Construction
Hollow Ground Dies
6 Month Warranty