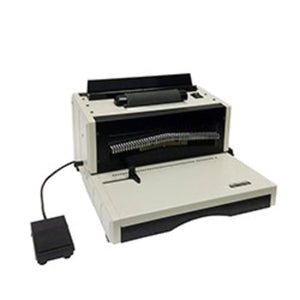 Tamerica OPTIMUS-46HD Electric Coil Binding Machine
This fully electric binding machine enables you to produce more books faster by saving you time. Both the punch and binding functions are controlled by a foot pedal.
Sheets load into this machine horizontally, parallel with the tabletop and the machine dies punch downward. The OPTIMUS-46HD comes equipped with disengaging pins, which allow you to select where holes are or are not to be punched, giving you the freedom to punch additional sheet sizes beyond standard 8-1/2 in. x 11 in. Letter size paper. Its open throat and edge guide also assist with placing your punched holes exactly where you need them.
When you're ready to bind your book, you can twist a plastic spiral coil through your sheets manually or use the electric coil inserter on board the OPTIMUS-46HD binding machine. To operate the inserter, simply press the foot pedal. The rapidly spinning coil roller will twist your coil through the remaining holes in your sheet.
Crimp both ends of the plastic coil to lock your pages into your book using the included coil crimping pliers.
Product Specifications:
Model:
OPTIMUS-46HD
Pitch:
4:1 (Oval Holes)
Punch Operation:
Electric
Max. Punching Capacity:
20 sheets (20# paper)
Binding Operation:
Manual or Electric
Max. Binding Capacity:

Electric - 220 sheets (20# paper)
Manual - 440 sheets (20# paper)

Max. Coil Diameter:

Electric - 15/16 in. (25mm)
Manual - 2 in. (50 mm)

Punching Length:
11.7 in.
Disengaging Pins:
Yes
Net Weight:
53 lbs.
Shipping Weight:
57 lbs.
Shipping Dimensions:
21 in. x 19 in. x 14 in.
Warranty:
1 year