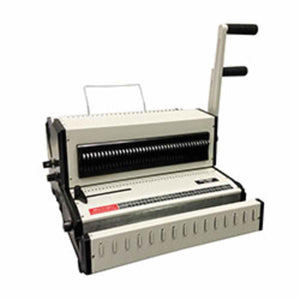 Tamerica OMEGAWIRE-321 Wire Binding Machine
Add the new Tamerica OMEGAWIRE-321 3:1 & 2:1 Wire Binding Machine to your small office environment and start binding your own books today!
This combination binding machine enables you to bind books with either 3:1 or 2:1 pitch twin loop wires, offering you the full range of wire binding capacities in one machine.
The OMEGAWIRE-321 comes equipped with disengaging pins, which allow you to select where holes are or are not to be punched, giving you the freedom to punch additional sheet sizes beyond standard 8-1/2 in. x 11 in. Letter size paper. Its open throat and edge guide also assist with placing your punched holes exactly where you need them.
When you're ready to bind your book, use the manual wire closer on board the OMEGAWIRE-321 binding machine.
Product Specifications:
Model:
OMEGAWIRE-321
Pitch:

3:1 or 2:1 (Square Holes)

Punch Operation:
Manual
Max. Punching Capacity:
20 sheets (20# paper)
Binding Operation:
Manual
Max. Wire Binding Capacity:

3:1 - 120 sheets (20# paper)
2:1 - 250 sheets (20# paper)

Max. Wire Diameter:

3:1 - 9/16 in.
2:1 - 1-1/8 in.

Punching Length:
11 in.
Disengaging Pins:
Yes
Net Weight:
53 lbs.
Shipping Weight:
57 lbs.
Shipping Dimensions:
23 in. x 22 in. x 15 in.
Warranty:
1 year