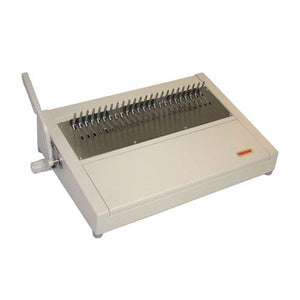 Tamerica 240HB 14" Manual Comb Opener
With the Tamerica 240HB comb spreader you can open plastic combs, insert your book pages, and close the combs, creating a professionally finished book quickly and easily. Many machines include a comb spreader on the unit itself, but when you buy the Tamerica 240HB 14" manual comb opener online, you have the option to punch and bind in an assembly line fashion to speed up the process. It is simple to use: just place your comb with the loops between the teeth and pull the handle to open the loops, then push the handle to close them around your book pages. The 240HB can handle books as wide as 14", so will work great for offices who deal with the most common page sizes, such as letter size, legal size and half size. It will also handle the full range of plastic combs, so you are not limited by book thickness capabilities.
Specifications
| | |
| --- | --- |
| Item # | 04HMANBIND |
| Manufacturer | Tamerica |
| Manufacturer Part Number | HB240 |
| Suggested User | Personal, Small Office |
| Binding Style | Plastic Comb Binding |
| Operation: Binding | Manual |
| Compatible Supplies & Accessories | Plastic Binding Combs |
| Dimensions | 17 ½" W x 12" D x 4" H |
| Manufacturer's Warranty | 90 Day Limited |
| Punch & Bind Capability | No [Binding Only] |
| Maximum Binding Edge | 14" |
| Pitch / Hole Pattern | Plastic Comb [Rectangle Holes] |
| Product Weight (lbs) | 17 |
| Shipping Weight (lbs) | 22 |
Description
The Tamerica 240HB 14" Manual Comb Opener is a machine that allows you to bind and edit Plastic Comb bound books.  Simply place the comb in the teeth of the binding machine, and pull the handle to open the comb for inserting and removing sheets.  Pushing the handle back will close the comb.  This manual unit can bind books up to 14" in length and up to 2" thick.  It features an adjustable binding stop so the spreader will not open so wide that your comb snaps back closed.