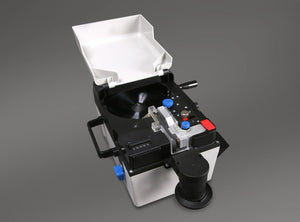 Semacon S-40 Manual Coin Counter
Semacon S-40 Manual Coin Counter
The Semacon S-40 Coin Counter is designed for manual operation and it's fast speed processing of up to 1,200 coins per minute makes this perfect for businesses that have large coin handling.  Whether your businesses is in  vending machines, car washes, laundry facilities or any other coin handling types of business, the S-40 can be a great investment.  The quiet operation and portability of the coin counter is a huge asset as well and it's heavy duty construction of lightweight yet durable aluminum alloy ensures that the S-15 will provide years of service.
Some of the other great features of the Semacon S-40 Coin Counter include the coin diameter adjustment that allows for adjusting to various different coins including tokens and most foreign coins.  This feature makes the S-40 a great flexible option and the sturdy mechanical counting system ensures longevity.  This coin counter can be used both as a portable unit or stationary.  There is a carrying handle and a dual purpose cover which acts as a coin inspection and feeding tray when opened and a protector for the counter when closed.  The tilted coin tray offers convenience and the large base has superior stability with maintaining a slim and compact design.   
When you have a business that deals in large coin quantity, you can make your coin counting easy with the Semacon S-40 Coin Counter.


Coin Packaging/Wrapping

Semacon coin counters feature convenient coin packaging capabilities. Coin packaging tubes are available for wrapping the following denominations:

1¢ - 5¢ - 10¢ - 25¢
50¢ - $1.00 (Golden/SBA)
Canadian Loonie - Canadian Toonie
Advanced Design Features
Semacon's cases are composed of a durable anti-shock, flex material that has a far superior ability to resist cracking and handle much more abuse than other coin counters. These models are great for portable applications where they must stand up to higher levels of abuse.
The main chassis structures are constructed from a strong yet lightweight aluminum alloy, assuring long lasting durability through years of heavy use.
Semacon's large base is designed to offer greater stability than many other counters, while still maintaining a slim and compact space-saving design.
Semacon's counters also feature a large, tilting coin tray for inspecting and feeding the coins into the coin hopper. This tray conveniently folds closed for portability and to protect the counter when not in use.