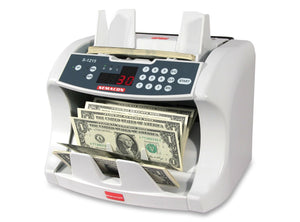 Semacon S-1215 Heavy Duty Currency Counter (With UV Counterfeit Detection)
Engineered for Performance and Reliability.
The Semacon S-1215 Series Bank Grade Currency Counters feature heavy duty construction, Semacon's SmartFeed™ Advanced Banknote Feed System Technology and high speed performance. Together these features combine to offer one of the most accurate and efficient high speed desktop currency counting machines available while setting the standard for durability and reliability.