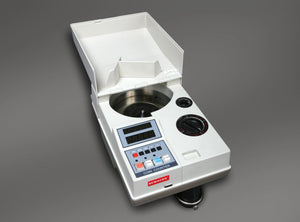 Semacon S-120 Electric Coin Counter
Semacon S-120 Electric Coin Counter
For businesses that deal in large volumes of coins such as laundry facilities, etc.  it's imperative to get a quick and accurate counting of your coins.  The Semacon S-120 Electric Coin Counter provides lightning fast coin counting along with packaging capabilities that will save you a huge amount of time and effort plus provide accuracy.  Time is money and with this coin counter, any coin operating business will be saving money that is spent having to hand-count its coins making this the perfect investment for your business.

The Semacon S-120 Electric Coin Counter features the ability to count coins up to an astounding 2,000 per minute and has the ease of a push button control panel that utilizes functions used extensively by the operator.  It has the feature of counting larger coins first and separating the smaller diameter coins into a different tray or bag.  The process is then repeated until all coins are counted and packaged.  Not only can the counter distinguish domestic coins, you can also add additional tubes to handle foreign coins.  The speed of the S-120 does not sacrifice noise, this coin counter is much quieter than other counters and the feed belt system has a protective cover that is easily removable allowing access to the feed system.  The coin counter's lid acts as an inspection for funneling coins into the hopper and the unit can be transported by lifting it with its built-in carrying handle.
With speed, efficiency, and packaging capabilities, the Semacon S-120 Electric Coin Counter can be the perfect asset for your coin operated business!


Coin Packaging

Semacon's S-120 coin counters feature convenient coin packaging capabilities. Coin packaging tubes are available as an option for wrapping the following denominations:
1¢ - 5¢ - 10¢ - 25¢
50¢ - $1.00 (Golden/SBA)
Canadian Loonie - Canadian Toonie
Additional tubes are available for packaging coins of other foreign countries. Please inquire with your special requests.