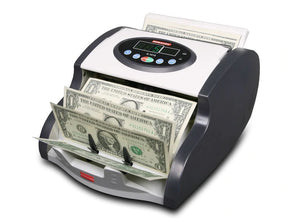 SEMACON S-1015 CURRENCY COUNTER
Feed System:

 

Friction Roller System
Hopper Capacity:

 

80-120 Notes
Stacker Capacity:

 

80-120 Notes
Note Size:

 

From 115 x 50 to 167 x 85 mm
Power Source:

 

110V/60Hz or 220V/50Hz
Dimensions:

 

9"W x11.5"D x 5.5"H
This machine cannot distinguish between different denominations of bills
Fast These counters operate at a counting speed of 900 banknotes per minute. Counting tasks that would have taken you hours are now reduced to just minutes.
Easy to Use Designed for operator convenience, the intuitive control panel features batching capability, and buttons for commonly used features.
Accurate & Reliable Semacon Bill Counters are engineered with fully automated, advanced screening capabilities to thoroughly detect errors like double notes, chain notes, and half notes. Our counters ensure the most accurate total counts and are designed to offer you years of trouble-free operation.
Detects Counterfeits Designed to pinpoint suspect counterfeit banknotes, the S-1015 offers an advanced counterfeit detection system that features ultraviolet (UV) detection.
Compact The S-1000 Mini Series offers similar functions and features to many larger machines but in a compact space saving design. Even with its smaller size, the Mini still offers the performance and durability you expect from Semacon.
Available for International Markets S-1000 Mini Series Compact High Speed Bill Counters are in use worldwide and have been proven to work with a wide variety of currencies.
Built with Semacon Quality All Semacon machines are extensively tested and burned in under rigorous conditions in our US facility, assuring you the highest possible quality and reliability.
Note: The S-1000 Mini Series Compact High Speed Bill Counters are intended for use in mid-volume applications.
This machine is warranted by the manufacturer to be free of defects in materials and workmanship for a period of one year from the date it is received. This warranty covers all machine replacement expenses including shipping costs.