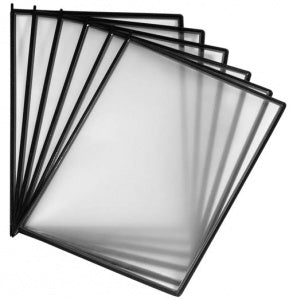 Martin Yale MVS6 Master View Nonglare Replacement Sleeves
Martin Yale MVS6 Master View Nonglare Replacement Sleeves
Martin Yale MVS6 Master View Nonglare Replacement Sleeves, 6 per Pack for MVMD12 MVPD12 MVSM10 Modular Desktop Display Reference Systems, Double-Sided Letter nonglare sleeves hold up to 12 letter or A4 size sheets, Index tabs included, Sleeves remove easily for copying.
FEATURES:
Ideal for displaying memos, price sheets, calendars, phone lists and more
Use to replace worn sleeves or add on to current systems
6 sleeves display up to 12 important documents at a time
Sleeves hold 8 1/2 inches x 11 inches and A-4 size paper
Two-sided, non-glare and easily removable
Use with - MVMD12 - MVPD12
Individual
Filing Capacity
12 sheets
Dimensions
9.75 inches x 13 inches x .25 inches
Weight
9.2 oz.
UPC Code
0-15086-22700-5
Master Pack
Dimensions
13 inches x 13 inches x 6 inches
Weight
3 lbs.
UPC Code
500-15086-22700-0
Master Pack Qty.
6
THE MINIMUM ORDER FOR ALL MARTIN YALE PRODUCTS IS $40.00.

DON'T SEE THE MARTIN YALE PART YOU'RE LOOKING FOR? WE CAN GET IT FOR YOU, GIVE US A CALL.