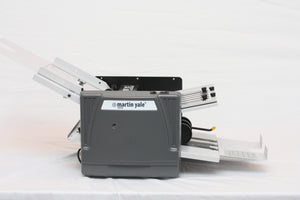 Martin Yale Model 1217A Autofolder
Martin Yale 1217A 
This automatic paper folder machine is simple to operate. Great for use in mailrooms, offices, schools and churches. This heavy-duty folder automatically feeds, folds, and collects a stack of documents quickly and efficiently. Simplified adjustments for folding 8 1/2'' x 11'', 8 1/2'' x 14'', and 11'' x 17'' documents. Folded material emerges on conveyor belts, creating easy-to-handle fanned stacks. This machine can handle documents up to 11" by 17" in size and can create up to six of the most common folds such as the letter, half, z-fold, double parallel, right angle and French fold. The motor on the Martin Yale 1217A operates at a speed of 10,300 sheets per hour.
Handles paper from 16 lb. bond to 120 lb. index.
High-speed machine automatically feeds and folds a stack of documents up to 11" x 17".
Feed tray holds up to 250 sheets.
Operates at a speed of 10,300 sheets an hour.
Adjustable within a fold range of 2" to 11 1/2" on the first fold and 1 1/2" to 5 3/4" on the 2nd to allow for a customized fold.
Conveyor belt exit.
Weight - 53 lbs.