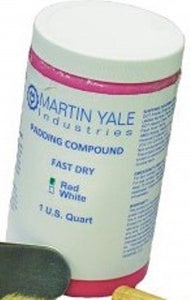 Martin Yale M-OQR0001 Quart Red Padding Compound Glue For Martin Yale Padding Press
Martin Yale M-OQR0001 Quart Red Padding Compound Glue For Martin Yale Padding Press
Description - Martin Yale M-OQR0001 Quart Red Padding Compound Glue; For use with the J1811, J1824, J2436 to create carbonless forms, notepads, scratchpads, calendars and more.
THE MINIMUM ORDER FOR ALL MARTIN YALE PRODUCTS IS $40.00.

DON'T SEE THE MARTIN YALE PART YOU'RE LOOKING FOR? WE CAN GET IT FOR YOU, GIVE US A CALL.