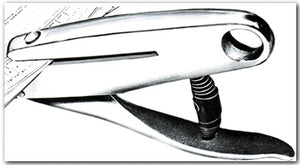 M.C. Mieth Coupon Book Punch No. 439-S 2-3/16 Inch Reach Round Hole Punch 1/16 or 3/16 Inch Diameter
M.C. Mieth Coupon Book Punch No. 439-S 2-3/16 Inch Reach Round Hole Punch 1/16 or 3/16 Inch Diameter Round Holes
The M. C. Mieth Coupon Book Punch is made in two styles: Punch No. 439-S with a 2-1/2 Inch Reach and 1/8 Inch capacity for coupon book punching and Punch No. 439 with a 3-Inch reach and 1/16 Inch capacity for use on piece work or time cards or wherever a long reach is required.
This Item Page is for the No. 439- S 2-3/16 Inch Reach Coupon Book Punch.
The M.C. Mieth Coupon Book Punch No. 439 - 2-3/16 Inch Reach us a custom designed, two piece, solid steel, nickel plated, single hole punch. It is ideal for use on piecework or time cards or wherever a long reach is required.
Punching Specifications for M.C. Mieth Coupon Book Punch No. 439-S
Round Holes: 1/16"or 3/16"


Round Hole Sizes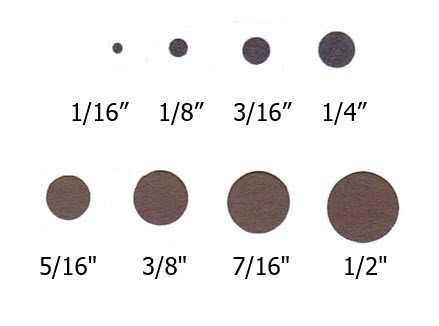 Single figure characters 0 to 9 or letter characters A to Z- 3/16" size.

Full selection assorted designs (2000 plus) is available for this punch

Net Weight : 1 1/5 lbs.
Shipping Weight : 3 lbs
Please Specify which DIE Format is desired, whether it be a Figure or a Letter, Number Combination. You can do this in the Order Notes Section in the Shopping Cart

If not in stock, a punch is built to order and requires up to three weeks for fabrication.


Six Reasons why M.C. Mieth Handheld Hole Punches Mark Faster and Easier:
Finish: Heavy Nickel Plate Buffed to a High Luster.
Clear Cutting Hardened Steel Die Made with Extreme Accuracy.
Easy Action Release Spring.
Malleable Iron Casting.
Hard Steel Pivot Pin( Lubricated for the Life of the Hole Punch)
All Finger Rings are welded to the handle(Finger Rings come with some Hole Punches and are Optional on others.)



Warranty


M. C. Mieth punch products have a one year limited warranty against any defects in material or workmanship. Not guaranteed against wear. Any alterations to product voids warranty.Unit must be returned to factory if service is required..