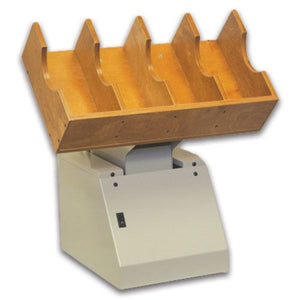 Lassco LJ-6 Multi-Bin (4 Bin) Table Top Jogger
Lassco LJ-6 Multi-Bin Table Top Jogger 4-Pocket Paper Jogger
The Lassco LJ-6 Paper Jogger and Table Top Paper Jogger allows for perfect alignment of all forms of paper products. This Multiple Bin Paper Jogger has four (4) wooden bins for faster sorting and collating of paper, envelopes and other materials. The bins are tilted at an angle to hold paper in place without operator assistance.
The LJ-6 Tilted Table Paper Jogger or Tilt Rack Paper Jogger has a base made with metal housing and casing to provide sturdy, reliable service. The LJ-6 Base which houses the motor, allows you to switch bin attachments. The Multi-Bin (Four (4) bins) of the LJ-6 Paper Jogger is interchangeable with the Single Bin of the LJ-4 which has a Table size of 17" x 17" and allows you to jog up to a FULL ream of 11" x 17" paper and paper measuring up to 17" x 17".
Each bin needs to be purchased separately to work with same electronic / base unit. To view the features of the LJ-4 look at our Product I.D. Number 10955.
The Lassco LJ-6 Paper Jogger is a Quick Print Jogger, Mail Room Jogger, Check Jogger and Envelope Jogger. Perfect for banks and mailrooms.
SPECIFICATIONS
Table Size: 18 1/2" x 10" x 4" with four bins 4" x 4" x 9-1/2" ea.
Motor: 115 Volt, 60 Hz, 2.2 amp, 1550 RPM
Actual weight: 30 lbs.
Shipping weight (two cartons): 37 lbs.
Ships via: UPS