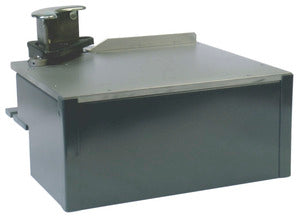 Lassco Table Assembly for Model CR-60
These Lassco Radius Table Assembly Dies are capable of round cornering .08 inch of half hard aluminum.
The Lassco Cornerounder CR-60 is designed specifically for use in a sign shop environment.
Features
The CR-60 cutting unit and table are sold as a single molded piece because of the incredible force of the cutting unit.
These tables include heavy duty welded construction for durability in production environments.
Replacement outer knives are available for all sizes to replace worn out blades on Table Assemblies

Specifications


Actual weight: 6 lbs.
Shipping weight: 7 lbs.
Ships via: UPS

Replacement Outer Knife for the 60-12TA is Item CU120

Currently four diferent radius tables are available for the CR-60 ranging from 1-1/2", 3/4", and 1".