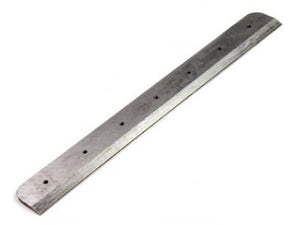 Blade for ERC 4908 Series Electric Paper Cutter
4908 Series Electric Paper Cutter Blade for 4908 Electric Paper Cutter
Fits most 560 mm or 22.04 inch Cutting Width electric paper cutters including but not limited to: 4908M, 4908T, 4908S
Replacing the knife on your electric paper cutter is very important to ensure you are always getting the cleanest and most accurate cut, without straining and wearing down the machine. The power of the electric and hydraulic systems will push even a dull blade through your stack, but when a dull blade is used the machine works much harder and will wear down quicker. An easy and fairly inexpensive way to keep your cutter performing at its peak for years to come is to frequently replace your blade.


FEATURES
Cutting blade for Electric Paper Cutter 4908 Series
Must pay attention to safety when changing blades
If you can't find what you need, please consult the customer service, we will try our best to find it for you.